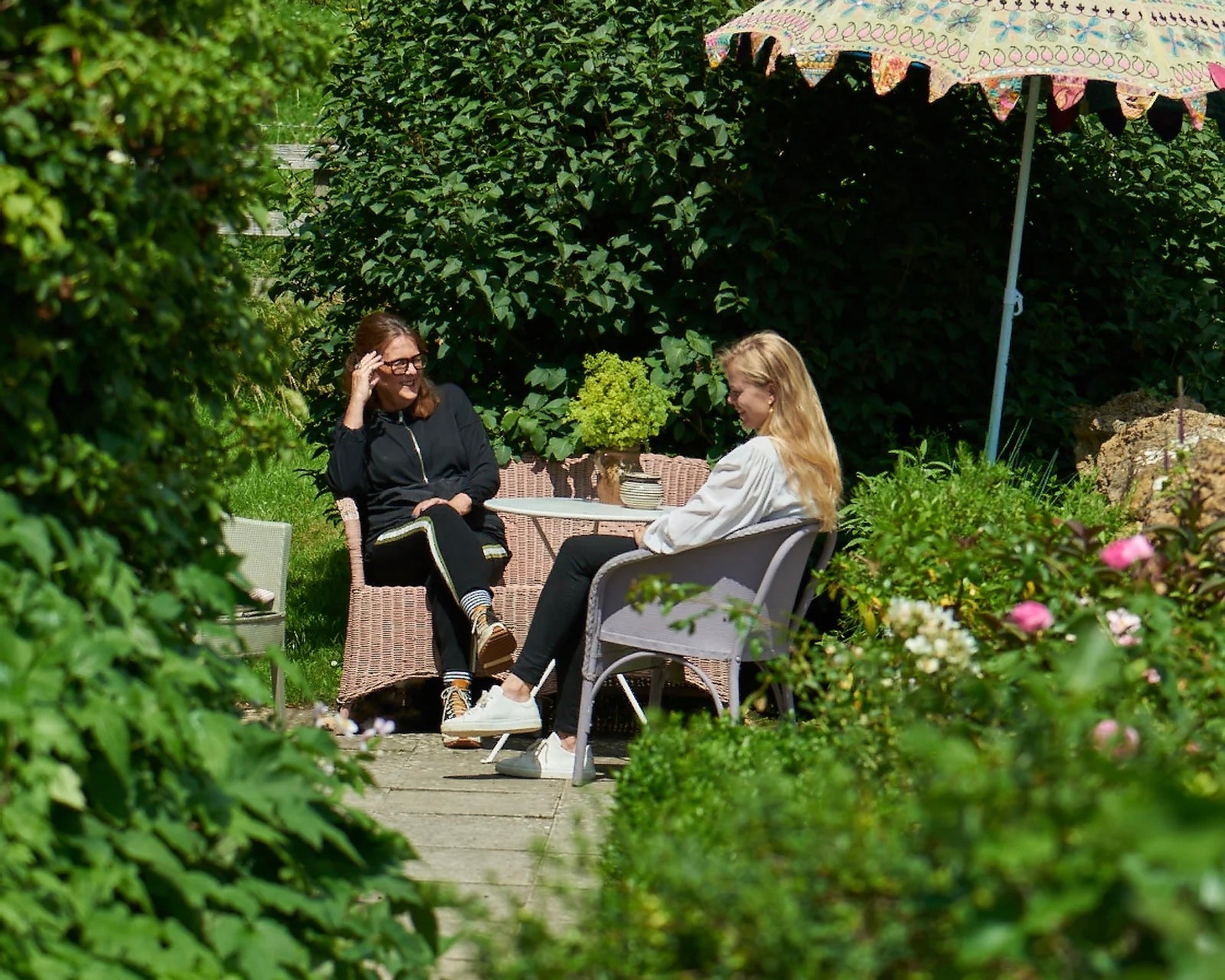 5 Minutes with Joa Studholme
Next up - second in line joining the Velvet Crush' concept with our #5minuteseries - for those of you that don't know her.
Meet Joa Studholme, the colour curator behind household name Farrow & Ball. 
Joa decided on a bespoke laptop case, perfectly F&B inspired. 
We were lucky enough to sit down with the ever so colourful Joa to find out what makes her tick…


Read our 5 minute interview below
You have become a colour wizard. How did it all start - how did you get to where you are?
I have always been obsessed with colour and as a small child I spent an inordinate amount of time rearranging my set of Caran Dache crayons to see how different colour combinations worked.  I still treasure them to this day and feel incredibly lucky to have grown up to work with the phenomenon that is Farrow & Ball. I have no formal training but rather am Farrow & Ball home grown, and totally passionate about my craft. I have now had the privilege of working with these deeply saturated colours for over twenty five years. Farrow & Ball life for me is very varied – I develop the colours and for my sins name them,  I give many talks about the use of colour and have now written two books on the subject, but I spend the majority of my time working as a consultant guiding people with choice and combination of colours in their homes.  As long as I am working with colour I am happy!

How do you go about creating a new colour and what inspires you to name them how you do?
Inspiration comes from too many sources to mention – there is colour all around us and it is exciting to harness them for use in homes. The names and colours are created in tandem and each and every one of them has meaning.  There is always a story behind both the colour and the name.  Sometimes it is as simple as a building where the colour was sourced like Inchyra Blue or the colour of vegetable like Brinjal. The much remarked upon Sulking Room Pink which felt like the perfect colour for a Boudoir is actually taken from the French 'Bouder' to sulk, but of course we will never tell about Elephants Breath! My favourite name comes from a deep desire to make a white that was almost gossamer in appearance – a white with very little additional colour and almost translucent – like a spider's web. This was the birth of the colour 'Wevet', named after the Dorset dialect for exactly that: a spider's web. And obviously I have to mention Nancy's Blushes named after the rosy cheeks of my daughter when she was a little girl, along with De Nimes which was inspired by the colour of the workwear favoured by my son.
How many months in advance do you plan new colours?
It is a never ending cycle – from the moment we launch new colours my mind is buzzing with new ideas – but the whole process usually takes about 18 months.
Are you allowed to tell us what colour is trending this autumn?
I think that there is something inherently human in the colours we will be attracted to in the next year – as well as in the way we use them.  Décor is moving forward whicle darwing inspiration from the modest character of the world of folk and craft, using colours like Babouche, Incarnadine, Stone Blue and Breakfast Room Green to extol the virtues of a simple life and celebrate the principles of utility, kindness and honesty.
You're pretty kitted out with LV with your work slip and you're your laptop case, what 2 other pieces would you add to your London Velvet collection?

I love my blush pink and sage green laptop case which I use every day – and at the moment my work slip is full of potential new colours!  But of course I would love to have a Beach Bag to carry around all my samples when I am advising people about what colours to use in their homes!

If your closest friend was asked – how would they describe your style?
A little eclectic? Prone to moments of madness…….


Are you a practical shopper or trend orientated?
I would love to say that I am totally a practical shopper but to be honest, shopping is really not my thing – virtually everything I have in the house is either inherited or picked up while travelling or in a local flea market. Clothes wise I have my firm timeless favourites and have stuck with them for decades.
What's your dream home?
Although I have lived in the same house off Portobello Road for the last 30 years (now considerably smaller due to the countless layers of paint!), we have recently bought a very small but perfectly formed new home which sits in the fields of Somerset – it is totally heavenly and a fantastic peaceful tonic after the bright lights of London. I couldn't be happier.
Lastly – bucket list item? 
Without doubt a painting by Rothko – for me he is the absolute master of using colour I particularly like Blue Green and Brown and have the perfect spot to hang it if you are offering!
We are over the moon to introduce you to our new 'Velvet Crush' concept. We  reached out to a few people we admire and asked them to design their own piece of London Velvet following up with a 5 mi...
Read more